I love a good tutorial. Don't you? Here's one for super cute push pins that you don't want to miss!
**********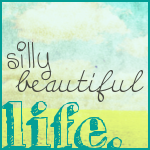 Hi!
I'm Fallon over at
Silly.Beautiful.Life!
I am so lucky to be able to guest post with Emily today! At first, I thought about talking about my parenting methods, but I don't have it in me today, to rehash everything that has gone on the past few weeks! 😉
(My two little boys are

monsters

!!!)
I have a
HUGE
love for *Fawn & Flora*. So when I saw these cute little wooden push pins, I bought them.
(I had no purpose for them at the time!)
Then, I got a bunch of vintage buttons from my Great Grandma. As I was going through them, and cleaning them up and
IT HIT ME
! I am going to glue the buttons on, and tah dah! Cute push pins!
Here are my push pins! Order Them *Here*
My Mix of Vintage Buttons and some pretty colorful ones from Joanns!
My Handy-Dandy Glue Gun!
All I did at this point, was put a little bit of glue on the head of the push pin, and put the button on. Once the glue dried, if there was an that poked through the button holes, I picked it off with my fingernail!
(Technical right??)
Here are my pretty push pins! I am going to use them for my inspiration board, once my craft room is finished! I cant wait to use them!!
Thank you so much for letting me share this quick and easy tutorial with you guys today! I love this, because there are so many different things you can do, and different styles you can make!
**********
Thanks for this easy tutorial, Fallon! I think these would make beautiful Mother's Day gifts or Teacher Appreciation gifts. Your tutorial comes just in time as both of those holidays will be here before we know it!
Be sure to pop over to Silly.Beautiful.Life to check out more of Fallon's tutorials.