Nap Time is My Time co-hosts a fun weekly linky party!
Feed Me Friday is a blog hop designed to help you increase your email subscribers. The linky opens on Thursday evenings at 8PM EST. Having an email subscription link on your blog is required for participation in this hop.
**********
Nap Time is My Time also hosts a new weekly linky party called Whip It Up Wednesday. This linky party is a place for you to share your handmade goods. Anything goes – recipes, artwork, sewing projects, and more! As long as it's handmade feel welcomed to share it.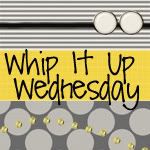 **********