Wait until you meet today's guest blogger! She finds stylish deals on clothing and home decor, you won't want to miss reading everything Nancy shares on Style 'n Decor Deals.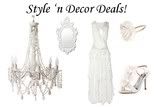 Hello! My name is Nancy and I am the owner of the blog, Style 'n Décor Deals. I am very excited to be a guest blogger on Nap Time is My Time. For those of you who are unfamiliar with my blog, I would like to tell you a little bit about Style 'n Decor Deals. My site is dedicated to finding "the best deals from Head to Toe to Home." I strongly believe that every woman can have beauty and style on and and around her for a lot less!
I have always had a passion for fashion and design. When designing and building my new home, I discovered great deals I wanted to share with others. Like the two great deals on bedding for my daughter's room – one of which I used to whip up this great canopy bed crown. Without sewing! I have always shopped for fashion deals for my daughter and myself, yet I was surprised at the amazing deals I discovered on lighting, architectural onlays, bedding, furniture and other home décor items. Hence, my blog was born
Style 'n Décor Deals posts deals daily. If there is ever a specific fashion or décor item you would like me to find, please let me know. I am happy to try and help you!
Thanks again, Emily, for featuring me as your guest blogger!
Isn't she great? Be sure to swing by her blog and start following her right away. You won't want to miss any of her great deals!
If you're interested in being a featured blogger on Nap Time is My Time, please email me or comment below with your contact information.