Tick Tock. Tick Tock. TickTockTickTockTickTock. Did your clocks speed up since last week? It's hard to believe that Christmas is one week away. I am ready and excited! The Boy is really into it this year – excited about the tree, the decorations, the big guy in the red suit, and Bernard, our elf!
I hope y'all are ready, or at least close to it. This week's link party will close on Monday at 2 and a next week's party will start on TUESDAY, December 24! Sound good?!
Ok, so what have you been crafting lately? I'd love to see what types of handmade craft projects you're whipping up. Go ahead – share it here!! But, please do keep in mind that a handmade project is either homemade or made by hand – not something you've purchased. It includes recipes, paper crafts, sewing projects, decorating ideas, photography, furniture transformations and much, much more! This handmade linky party will be open until Monday at 2pm EST. I'd love it if you'd grab the button and include it, and a link back, in your post or on display it on your blog. Not required, but very much appreciated.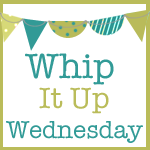 While I would love for you to join in the fun, please do not link up giveaways or links to your shops. Thank you!
Disclosure: By participating in this linky party, you are granting permission for me to "pin" a photo of your project to my Whip It Up Wednesday board on Pinterest.