Hello Friends! We're expecting another winter storm!! Snow should start falling later tonight. This winter has been crazy and all of this snow has slowed my crafting! No time to whip up a handmade project when my free time is spent shoveling snow and vacuuming salt from our floors. Generally I love winter, but this year we've received more than our fair share of snow. And it is getting old.
So, how did your Valentine's Day crafts turn out? I am making these again:
While I try to carve out more time for a little crafting, if you've been whipping something up, go ahead – share it here!! But, please do keep in mind that a handmade project is either homemade or made by hand – not something you've purchased. It includes recipes, paper crafts, sewing projects, decorating ideas, photography, furniture transformations and much, much more! This handmade linky party will be open until Monday at 2pm EST. I'd love it if you'd grab the button and include it, and a link back, in your post or on display it on your blog. Not required, but very much appreciated.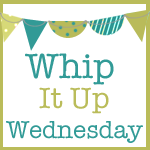 While I would love for you to join in the fun, please do not link up giveaways or links to your shops. Thank you!
Oh – before you go…make sure to enter the January Reader Appreciation giveaway for an Amazon Gift Card!!
Disclosure: By participating in this linky party, you are granting permission for me to "pin" a photo of your project to my Whip It Up Wednesday board on Pinterest.