Lovelies, today is your lucky day! I'm sure that after yesterday's big shopping spree your wallets are all a bit lighter. Thankfully, our guest blogger today is going to share more affordable date nights with us! YAY! For frugal and fun!
**********************************************
Hi there, I'm Ashlee from Capernaum Home and excited to be guest posting today about fun date night ideas here at Nap Time is My Time–thanks Emily for having me!
Just a little bit about myself first. I'm married to a wonderful husband named Grant and we have a baby boy named Ashyr. You can read more about us on my blog where I also share recipes, diy projects, and more. I'd love for you to stop by sometime. 🙂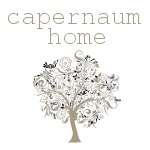 While I'm here today, I'd like to share a few fun date night ideas with you that my husband and I really enjoy. We have only been married for 2 ½ years, but after our first year we had to start working a little harder to you know, "keep the spark alive." We had to become intentional about it and what we decided was that we needed things that would be both fun and exciting. Going out to dinner every Friday night started to feel so routine and unadventurous. Now that we have a baby, we have to work at it even more, but we are finding success. Here are just a few of the ideas we have come up with.
Sit by the fireplace, make s'mores, and play a board game or read a classic novel together. So relaxing and cozy. It's fun to get all snuggled up in the living room with a blanket, tasty treats, and a great book or game. This one is great when we don't feel like going out after a busy week and just feel like relaxing together. Also it's a great default when we can't find a sitter, just have to wait until the baby is sound asleep. 🙂
Do a progressive dinner. This one we only do occasionally, since it can be a little pricier. But we will go somewhere for an appetizer such as chips and salsa. Next, we will head to a different restaurant for our main course. Then onto somewhere else for dessert and/or drinks. The best way to do it is to not plan out the evening. Instead we decide where to go next spur of the moment and it feels more spontaneous and exciting that way.
Go to the library and read random things from books to each other. Seriously we grab some coffee beforehand and then do this for hours. However, it may require you to be slightly geeky like us. It's amazing though what you can find to read about and learn. Sometimes we choose a specific topic, other times we just want to laugh. The best time to go is Friday night when it is less busy, and there won't be as many people annoyed by your snickering together in the back corner. Trust me.
Get dressed up and go dancing–in your living room! Again, this one is perfect for when you don't feel like going out and want to save some money. Just light some candles, have some wine, and put on your song. Be sure to mix it up with some fast and slow music to make it more interesting though. I always have a little dessert on hand afterwards to top of the evening. And I love getting dressed up just for each other even when no one else sees–very special.
Hit up a thrift store together, put lots of clothes in your cart, and try on your crazy outfit concoctions in the (same) fitting room. We have a blast with this one and it's an inexpensive way to get new clothes. Oftentimes we will each get a new outfit and style it up to wear out on the next date night.
These are only a few that we have love to do, but the possibilities are endless really. It just requires a little working together and some creativity. Sometimes it seems like such a chore to get a sitter, get dressed up, forget about everything else that needs to get done, and enjoy the night. But we always find it to be worth it in the end and come home laughing and happy that we did. Hope you too find these helpful too and have fun!
**********************************************
Once we're back from vacation, I know that our wallets are going to be empty (forget about lighter!) so we'll be using these awesome date night tips. Thanks, Ashlee, for sharing with us! Be sure to swing by Ashlee's blog and say hi, connect with her on Facebook, Twitter, Pinterest, and check out her Etsy Shop, too!